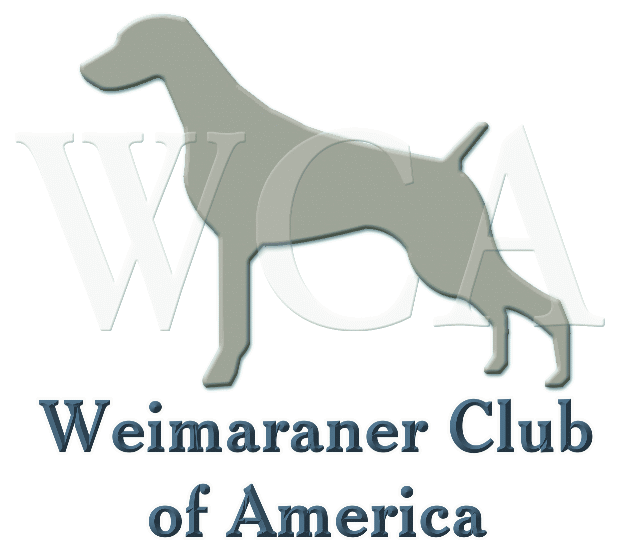 The Weimaraner Club Of America
2023 National Specialty - May 7-12, 2023
Linn County Expo Center, Albany, OR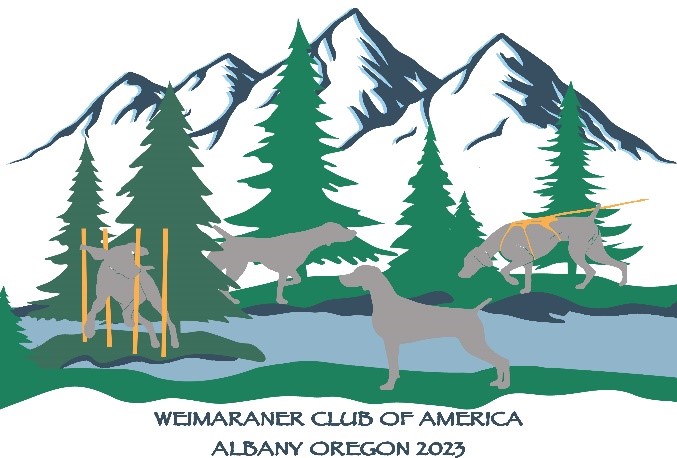 ---
PREMIUM AND ENTRY INFORMATION

2023 NATIONAL SPECIALTY JUDGING PROGRAM

CLICK HERE for Conformation/Obedience Premium and Entry information

Shooting and Retrieving Ratings Premium


Tracking (TD/TDX) Premium
Tracking (TD/TDX) Entry Form

Tracking (Urban) Premium
Tracking (Urban) Entry Form

Agility Premium and Entry

MOST VERSATILE WEIMARANER AND TRI-ATHLETE NOMINATION FORM - Form MUST be filled out by May 1, 2023
Rules and Scoring information


---
WELCOME PARTY, TOP 20 DINNER, AND AWARDS BANQUET INFORMATION
Social Events Dinner Ticket Form

WELCOME PARTY (Monday, May 8th) - No Charge - Light Hors D' Oeuvres, Cash Bar. Reservations needed for head count

TOP 20 DINNER (Wednesday, May 10th) - Pasta Bar / Taco Bar Buffet $42.00
• Penne Pasta, Meat Sauce, Marinara Sauce
• Mixed Green Salad with Balsamic or Ranch Dressing, French Bread
• Chicken, Shredded Beef, Rice, Beans ,Corn & Flour Tortillas and all the fixings
• Homemade Cookie Assortment
• Water, Iced Tea, Coffee Decaf/Regular, CASH BAR

AWARDS BANQUET (Thursday, May 11th) - Plated Dinner $65.00
Choice of Entree:
• Prime Rib Au Jus or
• Lemon Caper Chicken or
• Stuffed Portabella Mushroom Caps
• House Salad with assorted Dressings, Garlic Mashed Potatoes, Green Beans, Sour Dough Rolls
• Mini Assortment of Marion Berry Pies, Cheesecake and Carrott Cake
• Water, Iced Tea, Coffee Decaf/Regular, Cash Bar


---
RV Information
Linn County Expo Center - Albany, OR
May 7 – May 12
Please visit Linn County Expo Center at www.lcfairexpo.com/rv-reservations to make RV reservations. There are electricity & water hook ups available plus a dump station on site. Make your reservations online with the Expo Center.
---
Hotel Information
Holiday Inn Express & Suites
105 Opal Court NE, Albany, OR 97322
Phone 541-928-8820
A small block of rooms has been reserved at this hotel which is located immediately adjacent to the Linn County Expo Center.

Rates - $149.99 plus tax Sunday, May 7 – Tuesday, May 9, 2023
$189.99 plus tax Wednesday, May 10 – Friday, May 12, 2023

There is a $10 pet fee per night valid for up to (2) dogs in a guest room. Reservations must be made by 4/9/2023. Call the number listed above and mention "2023 Weimaraner National Specialty Show" at time of booking.

Cancellation Policy – Bookings cancelled or changed with less than 2 weeks' notice prior to reservation date (4/23/23) will be charged a $100 fee. Bookings cancelled with less than 1 week notice or during stay will be charged the full cost of the reserved accommodation.

There are multiple events going on through out the area during this time. Make reservations early. Also, there are several other hotels within reasonable driving distance.
---
2023 National Specialty Merchandise
Announcing the availability of merchandise for the 2023 National Specialty Week. Our beautiful logo was designed by Mindy Wilson and has been digitized by Sonjya Luke of CKC Embroidery, our merchandise vendor.

We are handling merchandise a little differently this year. You can order merchandise online at www.companycasuals.com/WCA2023National

Items can be shipped to your home, or you can save the shipping costs and pick up your pre-ordered items at the national specialty at the CKC Embroidery booth. Sonjya will be at nationals with her printer and embroidery machine. You can pick an item, color, and size and Sonjya will add the logo for you on the spot. The WCA will not have any unsold merchandise on hand.

Some items are printed, and some are embroidered. Please check the merchandise website for more details.
www.companycasuals.com/WCA2023National
---
2023 National Specialty IMPACT CRATE RAFFLE
Weimaraner Club of America & Weimaraner Foundation Fund are raffling an Impact 34" White Collapsible Dog Crate with 2023 National Specialty Logo.
Valued at $1200, Winner need not be present, will ship to winner.
Drawing: Wed, May 11, 2023 Linn County Expo Center, Albany, OR
Ticket price $5.00
Deadline May 6, 2023

CLICK HERE for raffle tickets

Mail completed ticket & check to:
WCA, Attn: Mindy Wilson, PO Box 12118, Mill Creek, WA 98082
Phone Orders: Call Cindy Moore – WCA Na􀆟onal Office 830-624-9699 for credit card
---
2023 National Schedule
Sat, May 6:
Urban Tracking - City Setting (offsite - Albany, OR)

Sun, May 7:
Field Tracking (AM) - DK Wildlife Ranch - Sweet Home, OR
Retrieving Ratings – 12:00 pm - DK Wildlife Ranch - Sweet Home, OR

Mon, May 8:
Shooting Ratings (8am) - DK Wildlife Ranch - Sweet Home, OR
Set up - Santiam
Welcome Party - Conference Center

Tues, May 9:
Southland Weim Club Sweeps (puppy & veteran) – Santiam - Judge Claire Mancha
Southland Weim Club Jrs, 4-6 puppy, & Specialty – Santiam - Judge Chris Levy
WCA Regional Obed/Rally – Warm Up Arena - Judge Carl Lenz
WCA National Spec Obed/Rally – Warm Up Arena - Judge Gina Grissom


Wed, May 10:
Agility – 2 Weim Only Trials offsite - Turner, OR – Judge Paula Ratoza
WCA Regional Sweeps (puppy & veteran) - Santiam, Judge Savanna Skinner
WCA Regional Jrs & Specialty – Santiam, Judge Richard Anton
Top 20 Pre-Judging – Santiam
Top 20 Evening Presentation – Santiam

Thurs May 11:
Futurity/Maturity – Santiam, Judge Nancy D. Simmons
4 -6 Puppy Competition – Santiam, Nancy D. Simmons
Start National Specialty & JR's- Santiam, Judge Paula Nykiel
Membership meeting - location to be announced
WCA Awards Banquet – Conference Center

Fri, May 12:
Complete National Specialty – Santiam, Judge Paula Nykiel

NOTES: Schedule will be updated as details become available
---