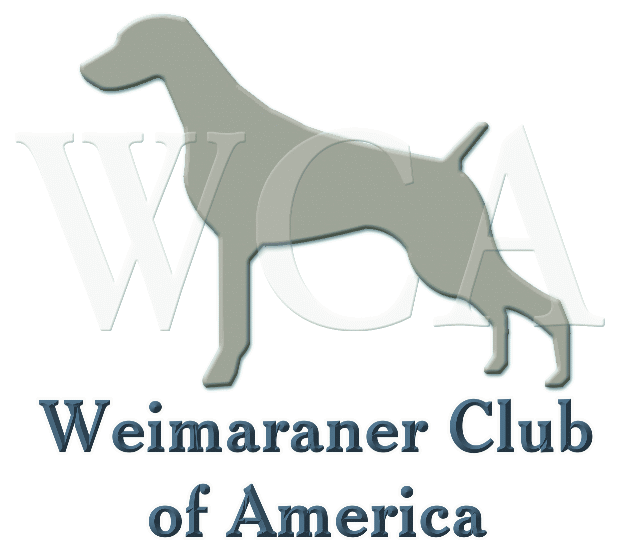 CH WING'S EZ SMOKEY TRAVELAIR, CD, RA, SH, CGC, NRD, VX, BROM
SIRE: CH Weick's Ultra EZ Smokey Daller
DAM: Staggerwing, JH
DOB: 10/14/1995
Breeder/Owner: Toni Fow

WCA Hall of Fame 2015
Travelair was a mover, floating across the bird field or floating around a show ring. One of nine puppies, she stood out from the beginning, an energetic beauty with an added hint of naughty! Whether it was flying in the biplane with her dad or running in the hunt field, she enjoyed it all. She was truly versatile, a natural backer and retriever in the hunt field. In 1996 she was one of only three Weimaraners, which included her dam and litter mate, who completed in hunt tests across the state of Florida. She was the first owner-breeder-handled Senior Hunter in Florida.
She was bred to Ch. Ghostmar's Funny Valentine, NRD, BROM, producing attractive hunting dogs, who loved to show! Her BROM was from just one litter, and that same litter made her a WCA Top Producer in 2000. She continues to bring pointing, hunting style and topline with gorgeous movement into pedigrees.
In total, Travelair produced 1 BISS, 5 CH's, 6 JH's 6 NRD's, 1 SH, 2 CD's, 1 RE, 1 CDX, 2 V's, 1 VX and one Top Twenty Show Dog with an Award of Merit at the WCA Nationals. Her grandchildren include a Best in Futurity, Best in Maturity and a Master Hunter.
She was what every breeder aspires to, versatility, temperament and longevity. Travelair was healthy to the very old age of 17 1/2 years. On her 17th birthday, she was out in the bird field showing the youngsters how to do it!
---
Download a PDF of this page
Back to the Hall of Fame Menu Page