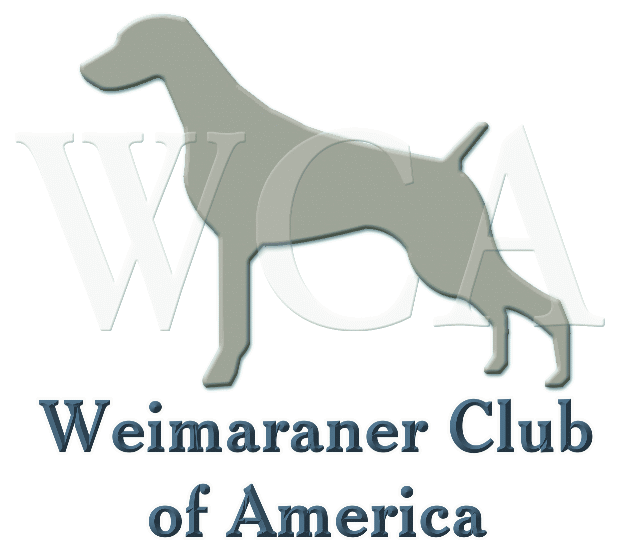 TC CT MACH CAN OTCH CAN VCH REGEN'S RIP STOP, UDX5, OM1, MH, MXB, MJB, CAN TD, SDX, RDX, VX7, FROM, NAVHDA NA PRIZE 1
SIRE: NAFC FC AFC Northernlights This Budsforu FROM
DAM: TC AFC Regen's Summer Blaze, VCD3, UDX2, RE, MH, MX, MXJ, SDX, RDX, VX6, BROM, FROM, HOF
DOB: 5/10/2002
Breeders: Shirley Nilsson & Judi Voris
Owners: Anne Tyson & Judi Voris

WCA Hall of Fame 2017
An incredible dog from the start, Diesel proved without a doubt that he was truly a versatile boy at the highest level. He is the only Weimaraner to ever have completed AKC Championships in five different venues.
He completed his Obedience Trial Championship at age 3, Field Championship at 4, Bench Championship at 5, Champion Tracker at 7 and Master Agility Championship at 8. Along the way he made his mark with more than 30 Obedience High in Trial and High Combined Awards and he was the #1 All Time Obedience Weimaraner until his daughter took over that position in 2014. He won High in Trial at the WCA National Specialty in 2003 and was both High in Trial and High Combined in 2006 & 2009.
He also placed 2nd in the 2003 WCA Western Classic Field Futurity in his very first field trial. He then took 1st place in the 2003 WCA Mid-America Classic Derby. He also won in the 2006 WCA Western Classic Amateur Gun Dog and placed 4th in the 2008 WCA National Amateur Gun Dog.
Other accomplishments included Master Hunter, Retrieving Dog Excellent, Shooting Dog Excellent, NAVHDA Natural Ability Prize 1 (112).
He proved to be an exceptional sire as well as an exceptional dog. He sired only 20 pups. Among them they have earned Obedience Trial Championships, Field Trial Champion, Amateur Field Trial Champion, Master Agility Champions and Bench Championships. In addition, they have Master Hunter titles, NAVHDA Utility Prize 1, multiple NAVHDA Natural Ability Prize 1, and Tracking Dog Excellent titles. He also earned a Field Register of Merit for the accomplishments of his get.
All that was icing on the cake, because the best part about Diesel was his amazing personality. He was a ham for the camera, loved to perform tricks, loved to work, loved to please, loved to snuggle and truly loved his people. He is greatly missed and his memory will always be cherished by those closest to him.
---
Download a PDF of this page
Back to the Hall of Fame Menu Page